Last year we saw a resurgence in all-white kitchens, stainless steel, and granite countertops. However, 2018 already seems to be shaping up to be a year with entirely different trends. Designers are showing that they aren't afraid of incorporating color into their kitchen, mixed-metal hardware finishes and new, innovative countertop materials. Our designers have compiled a list of upcoming kitchen interior design trends. Read on and follow our kitchen interior design guide to obtaining an on-trend kitchen for 2018.
More color in kitchens 
Although all-white kitchens can add a sense of class and sophistication to your home, designers everywhere are predicting that 2018 will be the year we see more color added to kitchens. Despite its charming qualities, an all-white kitchen can come across as cold, sterile and void of personality. If you're looking to try something new or stay on top of the home design trends, you'll want to incorporate warm, inviting shades such as tonal reds, bold yellows, and earthy greens. 
Image via: House Beautiful
Wallpaper-like tile
Scalloped tiles and subway tiles have captured the attention of designers and homeowners over the last few years, and this year wallpaper tile designs are emerging as the go-to tile kitchen interior design trend. Offered in various patterns and colors, these are a great way to add much-needed color and character to your home, while more durable than actual wallpaper. You can wipe clean, offering functionality and style, a combination that can be hard to find when thinking of ways to make your walls pop. These simple kitchen design tiles will give added flair to a backsplash or a statement wall. Check out the magic in these wallpaper designs.
Image via: Brewster
Defining kitchens in open floor plans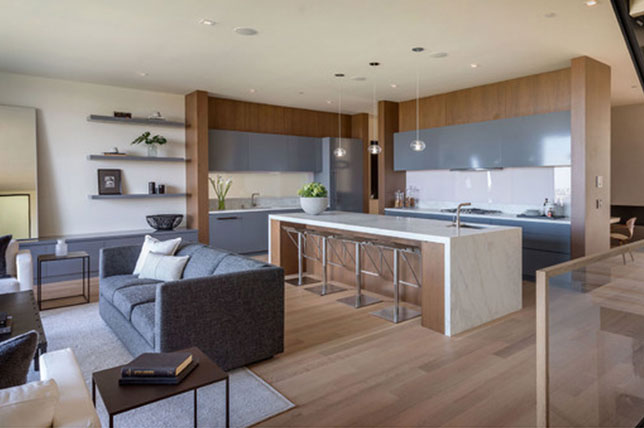 Open floor plans are fantastic for opening up small kitchen spaces. Despite this plus, we have already begun to see a shift away from open floor plans, and in spaces with them, designers are creating a defined area that stands out from the rest of the home's space. In an open floor plan, you can define your kitchen space by swapping out the flooring, and re-tiling the walls or even adding in a half wall of cabinetry. 2018 home design trends will be all about letting your home's kitchen be more than just the place food is prepared. Read our expert advice on how to remodel and define your kitchen.
Image via: Houzz
Dedicated chopping stations
There is nothing wrong with the average counter height, which is great for those casual everyday meal preps, however, when preparing and cooking for special events and more people than usual, counter space can be limited. So if it's time to make room in your kitchen consider following the latest kitchen interior design trend and add a dedicated chopping station in your kitchen. Topping the chopping station with marble will make it easy to integrate with existing surfaces, whether as a complement or a contrast. These dedicated locations tend to be lower than the other surfaces, but our designers say there is no rule to this besides making sure its height is right for you and efficient.
Image via: AKDO
Antibacterial Countertop
2017 was a year where a lot of home decor was inspired by and incorporated new technology. Despite 2018 interior designs sifting back towards nature, technology pushes forward. A futuristic design trend that is predicted to be huge this year are countertops made with antibacterial materials. Through a process called photocatalysis, Porcelanosa Grupo was able to create a countertop that not only eliminates bacteria on contact, but that can also purify the air. Imagine that! A counter that kills the bacteria as your preparing your family's chicken dinner. Be sure to keep an eye out on technology that helps make your kitchen cleaner and more efficient,  like with most tech we're sure this is something that is going to be huge.  
Image via: ArchiExpo
Dining tables in the kitchen
Kitchen islands are a simple kitchen design idea that's great for adding counter space to the heart of your home, and despite their popularity, many homeowners and designers are opting to place dining tables in a kitchen, especially those with limited seating. Compared to islands, a dining table makes the meal more intimate and gives everyone the chance to be apart of the dinner conversation. How engaging can the conversation be if you are all facing the same direction? Dining tables still can double as counter space and will be more inviting for your guest.
Image via: Homedit