Country chic living's come a long way since Eva Gabor landed on Green Acres from life in a glamorous city. In fact, we bet you've seen elements of modern farmhouse interior design popping up on inspiration feeds and in local restaurants and pubs as the movements blend of rustic and sleek looks so right for today.
If you're looking to add a sense of warmth, personality, and character with a hint of minimalism, here are great, tried-and-true interior design practices to add even just a touch of farmhouse interior design with a modern approach throughout your home.  
Why consider modern farmhouse interior design ideas?
It could root from a new found enthusiasm for all things organic and farm fresh, a need to disconnect from reality during these heady times, or a general return to traditionalism in the interior design world. Whatever the case, our clients just can't seem to get enough. And for good reason, as the modern farmhouse design movement brings with it a relaxed spirit that's warm and inviting without a hint of pretension – and it's easy to replicate on your own.
What does modern farmhouse decor really mean?
Today's take on modern farmhouse decorating is rooted in rustic country charm peppered with warm minimalism and industrial elements somewhat similar to Scandinavian interior design. Striking just the right balance of pastoral and refined, modern farmhouse decor emphasizes comfort and casual living with contemporary sensibilities reflective of today's times. Think utilitarian, natural yet refined, country yet eclectic and sophisticated as go-to modern farmhouse interior design characteristics.
Though it's often surprising to initially hear the terms "modern" and "farmhouse" together, this go-to union of design styles is more than newsworthy. When looking to cultivate your own take on modern farmhouse decor, it always pays to put a fresh spin on rustic elements so your home feels unique to you while remaining thoroughly modern in spirit.
And there's good reason why so many of our clients from Los Angeles to Brooklyn fall for modern farmhouse style. Its stylized approach to comfort and beautiful, simple design, evokes a spirit thats warm and inviting, even if you are no where near a farm. That said, some design fans avoid the style altogether, mistaking it for a classic idyllic style when its so much more than that.
Prove them wrong by mastering, updating, and pulling off the modern farmhouse design style in your home while achieving a heady balance marrying classic comfort and modern flair.
Considering the many highs and lows of modern farm life, it's no wonder that everything starts and ends with practicality. Though vital for every design style, modern farmhouse décor always focuses on functionality and usage as a major point of consideration.
And just like with any other design style, planning is key. Before you start any design project or update, carefully survey your space. Take in every element and detail like the flow through a room, the lighting, and furniture scale and placement. Consider what works and what doesn't, along with what alternatives you should consider in order to make ease your major priority.
Keep in mind that once you're ready to start the design process, again, practicality and function should be your main focus. Here, furnishings and storage solutions should take center stage for every room, even before you begin to usher in decorative elements.
How to create a modern farmhouse interior? Here's what to Consider:
Modern Farmhouse Decor
Since today's approach to modern farmhouse interior design is about a low-key combination of stark minimalism and country chic elements, have fun and be explorative as this is one decor trend that celebrates freedom and individuality. For a modern farmhouse interior, it's all about a vibrant mix of the old and the new for a comfortable, soothing vibe. Keep things interesting with unique finds, heirloom hand-me-downs, and arty (not crafty) decorative add-ons.
Materials
Organic and natural materials are the foundation for modern farmhouse decor. Source a mix of industrial metals for modern farmhouse kitchen decor counterbalanced by sleek white marble countertops and a large farmhouse sink. By sticking to simple sophistication, you'll also be able to inject natural elements to highlight a truly modern farmhouse interior custom to you.
Use Restraint
It's all too easy to go overboard when it comes to realizing modern farmhouse interior design. Maybe it's the freedom after decades of strict design practices or the fact that you have endless possibilities to consider, but we've seen plenty of over the top, regrettable, heavy-handed modern farmhouse interior design mishaps. To avoid the pitfalls of getting carried away, use caution and ask yourself what purpose will something serve in your home, and how will it enhance it?
Colors
Take a cue from clean Scandinavian design and stick to neutral modern farmhouse design hues for soothing contrasts to a wild mix of decorative pieces. Bright optic white will work to highlight statement-making pieces while working as a modern farmhouse decor foundation to tie everything together.
Play With Contrasts
Mix high and low, old and new for a rich modern farmhouse interior that evokes pared down, relaxed style and low-key luxury. As today's modern farmhouse decor is shy on old-school country elements like gingham, keep it cool with the classic mantra that less is more and do edit carefully.
Utilize Natural Fibers
Because modern farmhouse design is all about bringing the outdoors in, think natural wood, linen, and hemp fabrications and finishes. That said, we suggest avoiding lucite, plastic, and anything overtly unnatural as they'll confuse the eye and aren't in sync with modern farmhouse interior design.
Look For Unique Fixtures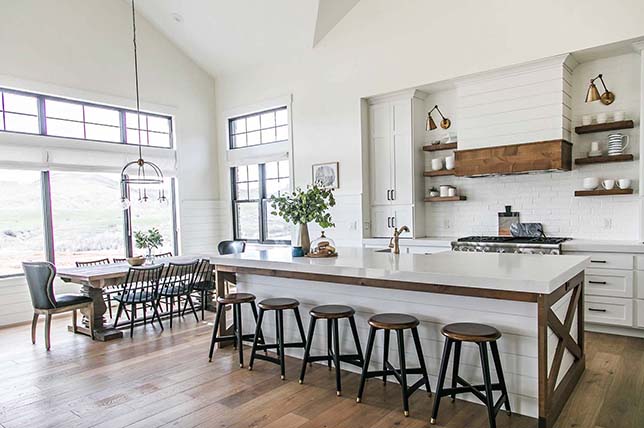 From weathered faucets to oversized pendant lights, there are endless extras you can use to highlight beautiful modern farmhouse design. For modern farmhouse living room decor, our interior designers often suggest bringing in rustic sconces and dramatic light fixtures as they'll also work to pack a sophisticated punch in one of your most used rooms.
Embrace Imperfections
As modern farmhouse interior styling calls for a mix of era's and a juxtaposition of contemporary minimalism and just a little bit country, approach modern farmhouse decor be introducing and celebrating unique one-offs that are irregular and slightly imperfect as they'll work to add personality and charm to even the most simple of rooms.  
That said, if you're limited with space, take a cue from small farmhouse interior design boards on Pinterest and keep imperfect decorative objects petite in scale as they'll overpower a room and keep the eye distracted.
Here's a shortlist of modern farmhouse interior design ideas to avoid:
Mason Jars
We've said it before and we'll say it again, enough with the repurposed mason jars as they're way too literal and common for a modern farmhouse interior. Instead, search for more traditional modern farmhouse kitchen decor elements like copper pots, classic enameled metal plates, and an iron kettle.
Prop Like Objects
Just because you're looking to add country chic elements in your home doesn't mean you need to go over the top with props like tricycles, saxophones and the ilk that would look better suited at a local pub or TGI Fridays. The joy of modern farmhouse design should be found in making it purposeful, sophisticated, and modern.  
Barn Doors
Another modern farmhouse interior trend we've seen just about enough of. Unless you're living in an actual repurposed barn, there's absolutely no reason to install one in a contemporary home. For one, they're childish, and more importantly, they'll become a costly trend you'll tire of quickly.
Vintage Signage
Unless there's a personal reference within the signage or something sentimental about it, think of different alternatives for modern farmhouse wall decor as signage is a bit too country. Think pastoral and unexpected art objects that are certain to inject your modern farmhouse living room decor with unique conversation starters rather than basic signage that everyone has seen before.
The key to making the most of modern farmhouse interior design ideas is to keep it natural and not overextend your vision as you'll run the risk of sticking too close to the theme and there's nothing more tiring and frankly obnoxious than a home that's centered around an obvious theme.
Shabby Chic
Though there's something to be said about the beauty of distressed furnishings and finishes, there's also a point where it can be too much. If it looks like it's on it's last leg, leave it out at as it won't help to create an elevated first impression and it will eventually need to be replaced.
Images via Pinterest