Who doesn't want their home exterior looking stunning from the roadside and to exude tons of inspiring curb appeal? Whatever your motive is for updating your home exterior, whether it's because you are looking to sell your house or if it's simply time for a refreshing revamp, we turned to Décor Aid interior designers and renovation experts to serve some essential home exterior ideas to help you update the outside of your home with ease.
Because sometimes we forget about maximizing a home's curb appeal, when it comes to the best home exterior ideas, sometimes it pays to go for a traditional route to keep your home's resale value consistent and high as possible. That said, there are plenty of brilliant and creative approaches to make your home exterior all the more unique to you that won't cost a fortune.
A Brighter Front Door
Repainting your front door or the frame in a unique color makes for the perfect home exterior update if you are looking to amp up your curb appeal, but without having to spend a small fortune or hiring someone to come in. If you are working with a limited budget, painting your front door is definitely an effective way to refresh your home exterior, as a can of paint and about an hour of time is all you need to get started on elevating your front door. Choosing a brighter front door color draws attention to your home's facade while making it stand out from the rest of the homes on your street.
You can even do this yourself by giving your front door a quick sanding down and a clean before you get started. Try and move away from the popular pastel shades and choose something bold, like living coral, the color of the year, to really make a stylish statement. Plus, painting your front door will also help you distract the eye from other areas you may not like or can't afford to update.
An Entirely New Front Door
If the condition of your front door has gone past dilapidated to the point of no return, then all the front door paint and home exterior ideas will do you no good. Investing in a new front door will instantly give the exterior of your home a complete facelift and you will reap the rewards in no time at all. Choose a sturdy front door which is in keeping with the style of your home – the worst thing you can do is throw off the look of your home with a white PVC door on the front of a Victorian style house. In general, going for a more minimal front door will keep the look timeless and sophisticated to boot.
There are loads of front door options out there that are also smartly weatherproof, so selecting the best home exterior design ideas for your home shouldn't be too much of a challenging task. And if you are buying a ready-made front door, keep in mind that a warranty is essential as front doors are often faced with extreme weather conditions and age fast.
Grow A Dramatic Wall Of Ivy
Allowing a creeper to cover over your home is a stunning and affordable way to make the most of your home exterior while lending it an idyllic sense of beauty. Yes, it will take a while, but strains of English ivy can be fast growing, so you will soon be rewarded by stunning green and pretty florals sweeping across your home exterior. Choose an ivy with plenty of green and blooming flowers so your home will look stunning come warmer weather.
English ivy looks terrific installed around porches, along porch railings, and around garages, upping your curb appeal in an instant while lending your home a memorably romantic sense of sophisticated nostalgia.
Accent Entry Light
When you're updating your home exterior, it makes for a great opportunity to be explorative with the freedom of choice that architectural updates can allow for. A new accent entry light is a great and beneficial idea to add to your list of exterior ideas for homes. Style your home exterior with a vintage-inspired entry light (Art-Deco styled lights are stunning) or go completely modern with an entry light with clean minimal lines and subtle details.
If you want to go for something more luxurious, install your new outdoor lighting on a chain for low-hanging appeal, rather than attached to a wall or ceiling as this will add extra drama and will make your stunning home exterior seem all the more well-judged and investment worthy.
Update Porch Railings
Porch railings can really make a home exterior feel out of date and in need of an overhaul (especially if they stretch across the front of your home). Create some striking visual interest at the front of your home with some unique porch railings that boast plenty of finely crafted detail. A refreshed porch railing will liven up the front of your home and give passers-by something to take note of.
If your porch railings are looking a bit rough around the edges, take some time to provide them with some TLC and a fresh coat of weatherproof paint. That said, porch railings and fences, in general, can be expensive to construct and maintain, so do plenty of research beforehand to get the most for your money. And again, seek options that also boast a warranty, no matter how limited. 
Keep It Tidy
Just like you do inside, keeping your front yard or facade tidy and organized is essential in creating a charming curbside appeal. Keeping the outside of your home nice and tidy might not be the most luxurious of home exterior ideas, but it sure does make a big difference while taking little effort. Don't let household items clutter up your porch and make sure kid's toys are put out of sight.
Keep shrubs and grass trimmed and in healthy form, as an overgrown front yard will, of course, make your home exterior look unappealing. And if you don't have a green thumb, add some easy to care for floral shrubs, plants, and the ilk to bring everything together while adding an inviting sense of comfort. 
Get Decorative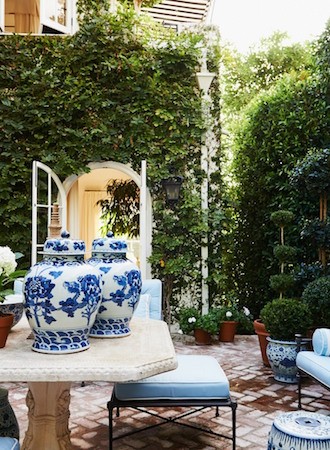 When it comes to approaching stylish home exterior ideas, they truly aren't very different from the way you take on decorating an interior. To bring your home exterior to life while showing off your taste and good eye, do add delightful decorative extras like Chinese garden stools and beautifully painted pots and vessels to also make your porch feel one of a kind and well-judged.
Add Plant Life
There is nothing more comforting than plants decorating your front porch as even just a bit of greenery can make a home feel more inviting in an instant. Adding plants makes for a quick, affordable, and easy way to upgrade your home's curb appeal while interesting pots and vessels will only add to the alluring set up. Bring in plants that boast plenty of greenery as they are also great for distracting the eye, such as if you are trying to disguise any peeling paint or blemishes. Go for bright colors and bold florals if you are trying to brighten up your exterior and make it look more energized and inviting.
In terms of home exterior design ideas, you're sure to get a beneficial amount of payoff for relatively minimal effort or cost with flora and botanicals. Rows of hanging plants with sumptuous blooms will also do the trick and can be brought in during colder seasons.
Bespoke Exterior Elements
Opting for bespoke exterior design luxury home exterior ideas will make your home all the more elevated, unique, and covetable. There is no better way to make your home stand out and provide the ultimate amount of curb appeal, than with well-judged elements that can't be seen anywhere else. Design your own customized tiled porch, or have a wooden porch beautifully handcrafted and install one-of-a-kind and vintage accents to really make it feel one of a kind.
Right down to a handcrafted set of planters, bespoke home exteriors are sure to boost the value of your property while inspiring neighbors nearby to follow suit.
Wake Up Your Walkway
Bring your home back to life by exploring walkway home exterior ideas that are unexpected and full of striking visual play. As plain concrete slabs can look drab and dull outside the front of your home, leaving plenty to be desired as you make your way to the front door. Don't let your walkway ruin the outside appeal of your home and instead, use your walkway as a stylish element to update your home exterior. Bricks make for a timeless walkway material if you have a more traditionally styled home, or sturdy stone slabs make for another option for more modern exterior ideas for home. Light your walkway so it can be easily traversed once the sun goes down and trim it with plants and shrubs if you have the space to work with.
Creating an experience as someone heads to your front door is one of the best home exterior ideas you can do to truly up the appearance of your home curbside. Plus, it's one investment that'll last for years to come when properly maintained.
Paint The Outside Facade
Painting the outside of your house can be a big job to take on on your own, making it no wonder homeowners avoid it much longer than they should. We get it, it takes a long time and a huge amount of effort, but the reward of a freshly painted home exterior is worth it when done well and in a classic color. Peeling paint looks tired and can damage the foundation of your home and a fresh coat of paint will instantly brighten up your home exterior and make your home look much more appealing and cared for. Steer clear of darker colors as they will make your home look smaller and harder to sell and go for a light and bright paint color to update your home.
You can even go for two different contrasting hues and paint your home's facade recesses a different color, for something more unexpected and modern.
Add Some Intriguing Art

Usually saved for grand manors with expansive yards, you don't often see outdoor sculptures decorating the front of a home. But when it comes to inspiring home exterior ideas, something as simple as a minimal sculpture can work wonders when it comes to creating memorable curbside appeal.
Take a similar approach and source a large-scaled outdoor sculpture or wall hanging piece to truly up your home's cool factor while adding an unexpected conversation starter.
Think About A Water Feature
If you're not lucky enough to have a home situated next to a calming pond or body of water like the home featured above does, a more affordable take on outdoor water features is certain to boast the value of your home while elevating its appeal endlessly.
From a simple fountain to a bird bath to a coy fish pond, a well-maintained water feature will make your home standout while making your everyday all the more inspired. Plus, it'll make for a relaxing area to entertain or read a good book alone as well.
Simple Symmetry
Never underestimate the power of soothing symmetry when it comes to your home exterior. By making your exterior ideas for home more symmetrical you'll be sure to notice a big difference to the roadside impact of your home. Place oversized lantern lights on either side of your front door and make sure that your porch area is balanced, without too much clutter on one side or the other.
Keep your plants even and well-trimmed if you have a front garden (lop-sided shrubs are sure to be off-putting) and if you only have a small space to work with, centralize things as much as possible – like a light above the door instead.
Images via Pinterest