Ever wonder why you sleep so well when you're on vacation? Being away from home and work is part of it, of course, but another important factor is the relaxation-inducing magic of a tranquil hotel room. The centerpiece of a high-end room is a luxurious bed, usually topped with soft, sumptuous white bedding. And if white bedding makes a room feel serene and puts you in an off-duty state of mind, how about an entirely white room?
Some might dismiss a white bedroom as too minimal or boring. It's true that white bedrooms lack the drama of a space exploding with color and patterns, but that doesn't mean they can't have richly layered, impactful design. (Also, we'd argue that an all-white bedroom is a bold choice, and it takes a pretty confident person to choose such a light, easy-to-stain shade.)
Whether you want a bedroom that's tailored and elegant or eclectic and bohemian, white can be your go-to color palette. Get inspired by these gorgeous spaces, and find out how you can create a peaceful white bedroom of your own.
Subtle Pattern
At first glance, this brilliant space looks like it's solid white. But when you take a closer look, you can make out the light grey trellis pattern on the wallpaper and another light print on the throw pillows. Break up the monotony of an all-white room with understated prints like this, or with details like the nailhead trim on the upholstered headboard.
Mixing Shades
Decorating a white bedroom doesn't mean choosing just one shade and adhering to it throughout the space. Mixing shades like pure white and winter white, as in this bedroom, add dimension to the space. Drape a big comfy blanket, like this cable-knit throw, across the foot of the bed to add texture.
via Refresh Restyle
Breezy Bohemian
This space shatters the illusion that all-white bedrooms are prim and proper. A pom pom trimmed duvet cover sets a playful tone, and gauzy white curtains filter sunshine in the light-filled room. A graphic print ivory area rug pulls the look together.
via Decoholic
Gallery-Like Space
There's a reason why art galleries paint their walls white: It allows the pieces in their exhibits to shine. You can achieve the same effect in your bedroom. For example, in this room the walls, upholstered headboard, and bedding are all the same shade of white, which draws focus to the striking pair of mid-century modern desk lamps and the wooden bench at the foot of the bed.
Organic Elements
Decorating with natural materials imparts an earthy feel. The reclaimed wood headboard is the centerpiece of this bedroom, and linen bedding adds texture to the space. A string of LED lights and a vase of daisies on the bedside table are dreamy touches. The result is a woodsy, cabin-like vibe.
via Lindsay Marcella
One Key Piece
It's easy to highlight a piece of wall art in a snow-white space like this bedroom. Two textured throws and a basket make the room feel more layered.
via By Kiki
Reflective Accents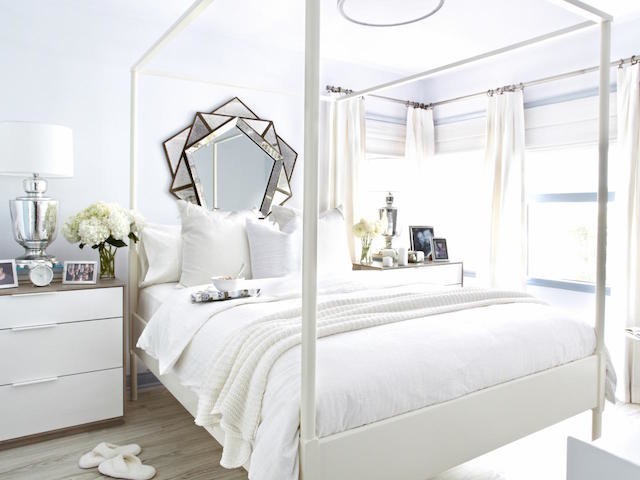 A statement mirror and metallic table lamps reflect light, maximizing the sunshine from the ample windows next to the bed. If your bedroom doesn't get much sun, take a lesson from this room and use mirrors and metallic accent pieces to amplify natural light.
via Foruum