Black and white stripes are a classic, timeless look that have been used on everything from rugs to window awnings to (ahem) old-timey prison uniforms. But even though this combination has been around since what seems like the dawn of design, somehow it always seems fresh and modern. Perhaps that's because designers are continually reinventing the look and showcasing it in unexpected places. So, you might be used to seeing striped walls, but what about a striped ceiling?
If you're not so sure about stripes, just wait until you check out these jaw-droppingly gorgeous ways to decorate with this pattern. These looks aren't for the meek, but whether you're ready to make a strong statement or you're just starting to test your limits, you can't help but smile and be inspired by these bold looks.
Black & White Striped Shower Tile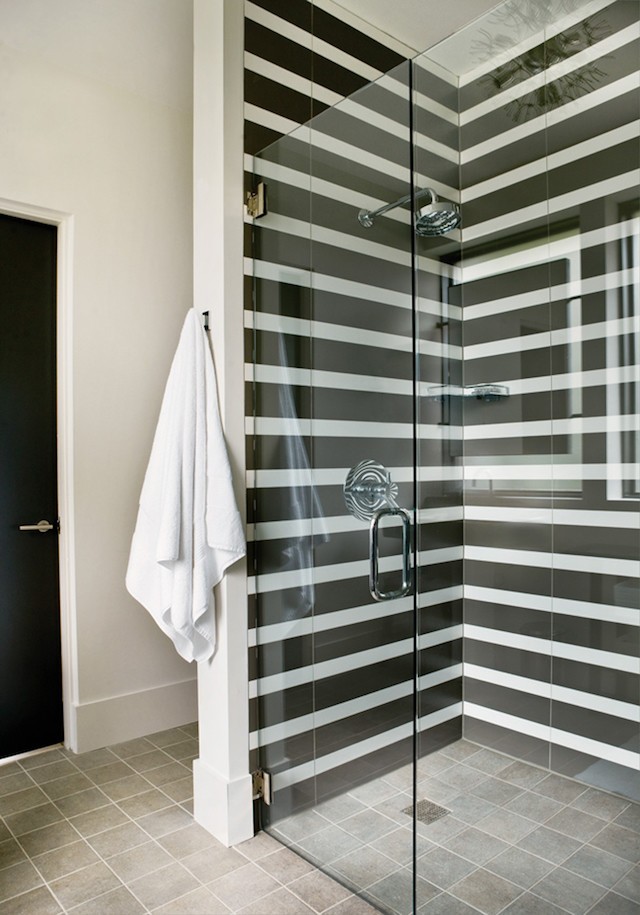 The thinner the stripes, the bigger the statement, so it's a good idea to confine busier patterns to smaller space, like this shower. The glass doors show off the pattern, and by keeping the walls white, the striped tile pops even more. And, but extending the stripes all the way to the ceiling, it emphasizes the height of the walls.
Black & White Striped Stairway
A vibrant pattern of thin and wide stripes almost creates almost an optical illusion effect on this stairway, and it becomes even more striking at the point where the two directions of stripes meet at a diagonal in the stairwell. The black and white artwork hanging on the walls feature more freeform shapes, which keep the space from looking too severe.
Black & White Striped Ceiling
Minimalist or maximalist, stripes work in any room. And in the case of this eclectic dining room, sometimes going all out with pattern and design is exactly the right move. In a room full of visual interest, the eye is drawn to the ceiling, which features wide black and white stripes. But the room's other strong design elements, like dramatic gold chandelier and graphic wallpaper, balance the look without competing with each other.
Black & White Striped Backsplash
White subway tile has been a kitchen design standby of late, but if you're torn between a desire to keep things simple and a fear of having a boring kitchen, this graduated stripe pattern might be just right for you. Wood accents add warmth to the space, and yellow accents–including modern stools–add a pop of color to the space.
Black & White Striped Powder Room
Bold striped wallpaper, especially in a small space like a powder room, might not be a unique idea, but switching up the direction of the stripes and covering the ceiling is a definite game changer. The whimsical mirror and drum pendant light make the space feel even more fantastical.
Black & White Striped Planters
A row of striped flower pots is cute, but a path lined on each side by trees in oversized black and white striped planters? That's next level. This isn't exactly a look that most people could pull off in their yards, but for the right space, it's magical.
Black & White Striped Pool
For the ultimate stripe enthusiast, we give you this incredible black and white tile pool. Stripes might not be an incredibly novel look in pools (and they serve a function–just ask anyone who swims laps), but black tile is definitely outside the norm. And if you have the budget to create a pool design that no one else has, then why wouldn't you?