When it comes to living room wall decor ideas the sky's the limit, and with that said, they can also make or break a room instantly. So how do you get the look right with confidence? To help you find key inspiration, we polled Décor Aid interior designers for their takes on displaying interesting and unexpected takes on living room wall art decor ideas.
From brilliantly deceptive trompe l'oeil installations to the top decor ideas for your living room walls to the modern to the traditional, here's everything you need to know to expertly energize your living room with ease.
Color Coordinate
While being too concise with color pairings can read as sterile and bland, there's something to be said about the harmony found by color coordinating your living room wall decor with its surrounding furnishings.
To avoid a heavy-handed feel bring in artwork that features no more than three of your living room decor colors to also make the space feel complete while keeping the eye moving.
Rethink Your Television
When entertaining go for the unexpected and use your television(if you have one in your living room) to double as an evocative art installation by displaying loops of short art films or clips that catch your eye for instant conversation-starters that'll leave everyone thrilled.
Trompe L'oeil
When it comes to bold wall decor ideas for your living room, take a cue from the avant-garde and consider rendering it in a series of trompe l'oeil finishes that mimic elegant moldings and crowns.
And while it will make for a striking effect, its also much more cost-effective to have a skilled artisan come in to apply the look than it would be to actually have custom molding installed.
Stylized Shelving
Sure, shelving is inexpensive and is great for storing and styling decorative items, but it's even better when it feels custom-made and built-in. Take your wall shelving a step further and think about finishing it in a unique manner, like the matte steel door pictured above.
As when it comes to living room wall decor ideas, the more unique and better realized, the better it will be for the rooms look and feel.
Embrace The Unexpected
Even if your home is traditional like the living room featured above is, bring in a delightful jolt by adding evocative art that's truly out of the ordinary.
After all, think of how standard this living room wall decor would feel it was on the classic side as, in the end, it would read as any living room, and not something as bold and visionary. And sure, that cereal-inspired floor piece is a riot, but who says interior design always has to be straightforward and serious?
Create A Curated Gallery Feel
When thinking about wall decor ideas for your living room, take inspiration from the art gallery world when displaying highlights from your collection.
For a clean feel, stick to symmetry and place everything at eye level just like you would see at an art institution. This will help the eye to focus while not taking away from the power of your art selection.
A Plant Panel
With all eyes in the interior design world on the sustainable and organic, a living plant wall makes for a refreshing alternative that can also help to clean and purify the air around your living room.
Plus, a living plant wall will help to add texture and interest in the space and will be inexpensive to boot.
Graphic Accent Wall
Accent walls have been trending for years now and there's good reason the wall decor idea hasn't waned in popularity. An accent wall can be inexpensively painted or treated with a graphic wallpaper, and you can easily change it as the seasons and trends pass.
Macrame Wall Art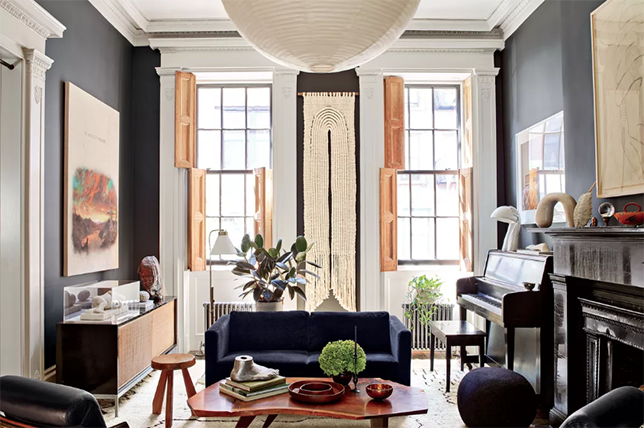 Though we aren't ones for the smaller scaled trending versions, when it comes to wall decor ideas for your living room, add a touch of handicraft via an oversized and dramatic macrame wall hanging.
Tie A Room Together
If you've got a large open floor plan, a large art piece can effectively tie the areas together while not taking any floor space.
Hanging Plates
If you're on the hunt for charming wall decor ideas for your living room, a collection of hanging plates will lend the space a cozy and comforting feel while making it feel all the more luxurious and grand.
Large Scale Art
A king-size photograph or painting demands attention. Setting the tone for the space it's in and creating the mother of all focal points. Living room wall decor ideas like this will liven up a minimalist space and add some vibrancy to your living room.
A large piece of art doesn't have to be overbearing, choose a monotone piece or a black and white photograph to blend seamlessly with the room while creating a defined and memorable point of interest.
Gallery Wall
We've all heard about art gallery walls by now, and if you haven't, where have you been? The great thing about a gallery wall is that it gives you the opportunity to mix and match your art pieces for a custom feel by creating your very own style and combination.
You can style your gallery wall however you like, opting for a modern and monotone selection of pieces, or something more traditional, energetic and colorful. Pair different style frames and paint them in a range of complementary colors for the ultimate in winning living room wall art decor ideas.
Fabric Wall Hangings
Tapestries and fabric wall hangings are a wonderful way of lending your living room some warmth and of showcasing beautiful embroidery work or something as delicate as a painted silk fabric panel. An intriguing tapestry can help you add a stunning and vibrant décor element to your home, which is a little bit different from the norm. An embroidered tapestry can look terrific installed behind the sofa in your living room, creating a focal point alongside more muted tones.
As when it comes to living room wall decor ideas, we can't wait to see more and more fabric wall hangings becoming more of a central decor element in living rooms.
Multiple Mirrors
We all know that mirrors are great at increasing light levels in your space, as well as helping your room feel larger, but how about mirrors for living room wall decor ideas? Think a score of mirrors that are intricately designed that will make for wonderful living room wall decor ideas.
Go for simple, clean-lined silhouettes for more a take on modern wall decor for living room, opening up your space and making for a refreshing change from expected, traditional wall art.
Bring in Greenery
Plants don't have to be limited to windowsills, use plants as a wall feature in your living room. Install stylish wall planters and fill them with a mixture of different plants to add an organic element to standard living room wall decor ideas.
Create your own DIY wall decor ideas for living room by fashioning your own moss wall or succulent wall – these don't require too much attention, so they are easy to take care of as well as being visually effective. And they won't cost a small fortune at that.

Linear Wall Hangings

Recent fashions have dictated wall hangings into a haphazard array, scattered about the wall, with different sized pieces and different frame designs competing with one another. Buck that trend with linear wall hangings arranged on your wall to create a grid. This idea works well with small prints, or paintings or sketches of natural forms, such as woodland animals, birds or flowers.
Living room wall art decor ideas such as this lend themselves to being framed in dark wooden frames, so they can make a bold impact on your living room wall.
Metalwork Wall Decor + Sculptures
So, colorful paintings aren't for you? If you are looking for something a bit different from traditional wall art, metalwork sculptures and art pieces make for a welcome move away from the expected. Have something bespoke made for your space by a professional metalworker, this way you will have something which fits your space perfectly and is 100% unique to you.
A stunning metal wall sculpture will help you move away from the conventional soft luxury of living rooms while providing an industrial, even urban modern edge. As when it comes to modern wall decor for your living room, going for the unexpected will always yield utterly unique results that'll keep everyone in awe.
Hang Up Your Treasures
If you have a collection that you've spent years amassing and cherish, display highlights from it for everyone to take in by creatively hanging your collection on the wall to be appreciated. If you are into to guitars (or any musical instrument for that matter) display them on the wall in all their glory, turning your most-loved treasures into art.
From collections of plates, record collections, toy collections, and even hat collections, make the most out of the things you love the most, by turning them into DIY wall decor ideas for your living room. That said, don't veer too far into theme territory as you don't want your living room to come off as a chain family restaurant. 
Picture Ledges
Slim picture ledges are a stylish and space saving alternative to standard shelving and are a novel way to display your prized possessions and artwork. They are chic in their own right – choose a set of picture ledges with stylized brackets or iron-work details, adding to your display. Leaning your pictures and paintings up against the wall on a picture ledge makes for a striking alternative to simply hanging them on the wall.
You can use also picture rails to display art books, records, and any small items you can use to brighten up your living room wall decor ideas.
Dried Flowers
When you think of dried flowers, your mind will probably go straight to the old-fashioned, browning displays you might have seen in your grandmother's house. Well, they don't have to be like that – vibrant displays of dried flowers will brighten up your wall and add some wonderful, natural texture to your space that you can't replicate with anything else.
You can frame them and display them on your wall or fasten them, so they are hanging down your wall freely – a modern take on one of the more traditional living room wall decor ideas. And for a more regal and sublime breathtaking effect, take a cue from the fashion house Christian Dior, who once had their atelier walls covered floor to ceiling with thousands of fresh blooms – just imagine the intoxicating aroma wafting through the halls. That said, keep in mind that florals are ephemeral and delicate and can cost a small fortune at that.
Make It Personal
Turn your living room wall into a personal trove with photos of your family, friends, favorite places, and art prints. For A DIY take, print out your most-loved photos in Polaroid format and peg them to lengths of string running from one side of the wall to the other (you can substitute string for a charming string of lights if you want to create a soft and inviting ambiance through your living room wall decor ideas).
Make DIY wall decor ideas for living room yours by suspending your photos and prints within picture frames for something a bit more unexpected.
Washi Tape Frames
When it comes to casually arranging favored clippings that you can easily switch out, washi tape makes for a more affordable and playful alternative to standard picture frames. Use the tape to fasten your pictures and prints to your living room wall, giving you a completely personalized photo frame effect, without having to go through the expense and time of sourcing expensive picture frames.
You can easily move your images around without damaging your walls as there's no nails involved as washi tape makes for a cool idea when it comes to modern wall decor for living rooms. Best of all is that it comes in a wide array of interesting colors and prints that'll instantly bring your living room to life with personality.
Images via Pinterest